Arc Elite Leadership x Driven Foundation
Holiday Food Outreach

Help our students provide meals for SEL families during the 2021 holiday season.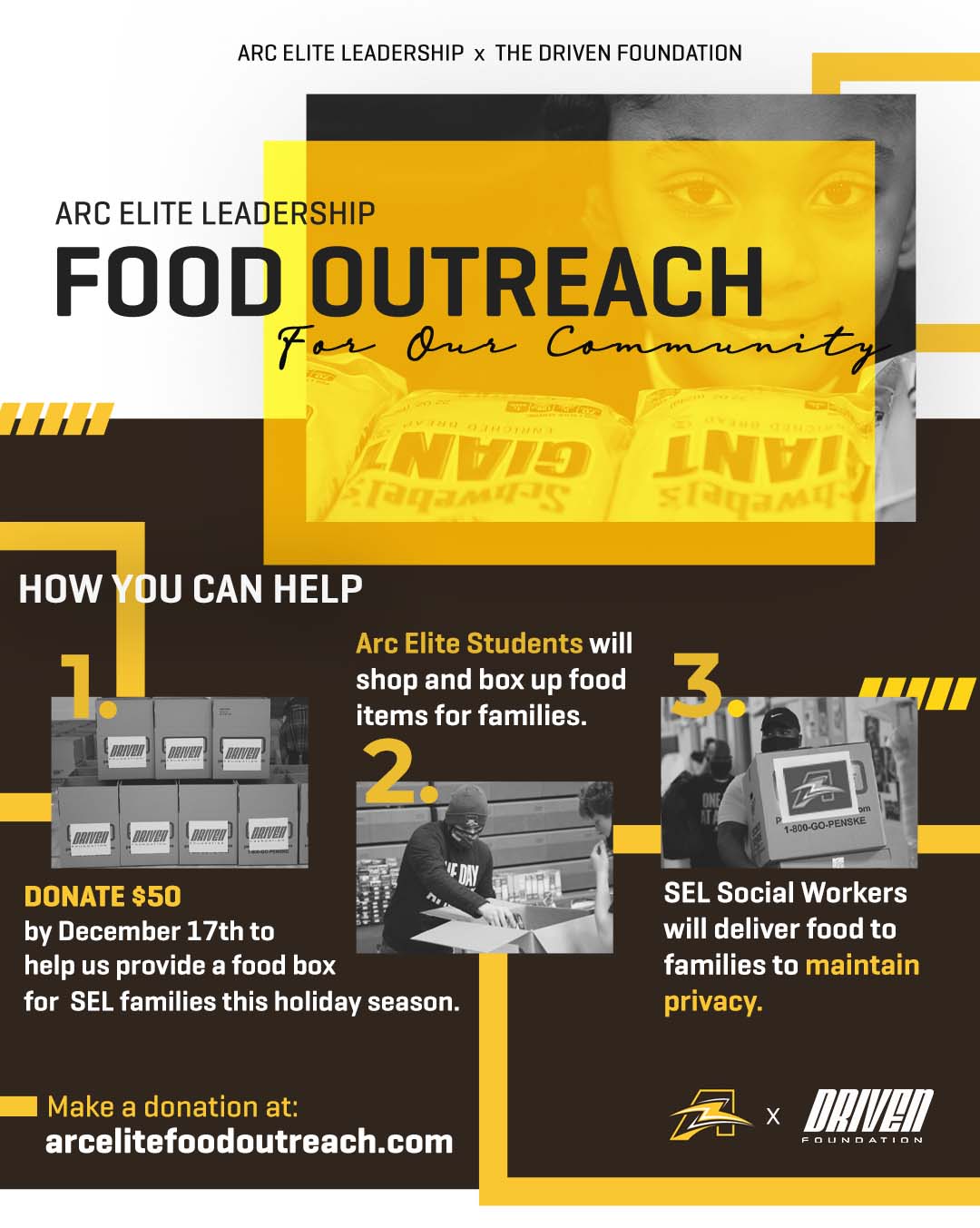 Food Outreach For Our Community
1 in 5 children in Ohio struggles with hunger. Times are extremely hard for many families in our community. Arc Elite Leadership and the Driven Foundation are partnering to DO OUR PART to fight against hunger this holiday season.
Our goal is to provide at least 20 South Euclid – Lyndhurst families with a food box (see items below). We can do this with your help!
Here's how YOU can help…
Donate $50

to help provide a SEL family with a food box
Arc Elite students will shop and box up food items for delivery
SEL school social workers will deliver food to families to maintain privacy
Food will be delivered to families the week of December 19th. 
What's in Our Food Boxes?
Our food boxes will consist of various non-perishable food items that will allow for the most total meals for families. Students will shop for all items, box and get them prepared for delivery.
Kraft Original Macaroni & Cheese (2) Quaker Maple and Brown Sugar Instant Oatmeal Packets (2) Kellogg's Brand Breakfast Cereal (2) Barilla Angel Hair Pasta (3) Prego® Italian Tomato Sauce with Roasted Garlic & Herbs Pasta Sauce (2) Kroger® Russet Potatoes (1) Wonder Classic White Sliced Bread (1) Seedless Mandarins (1) Heinz Tomato Ketchup 38oz (1) Frito-Lay® Flavor Mix Snacks & Chips Variety Pack (1)