Physical and Mental Health Workouts For The College Football Alumni Brotherhood
LIFT
Don't Miss Out! Only 15 Tickets Available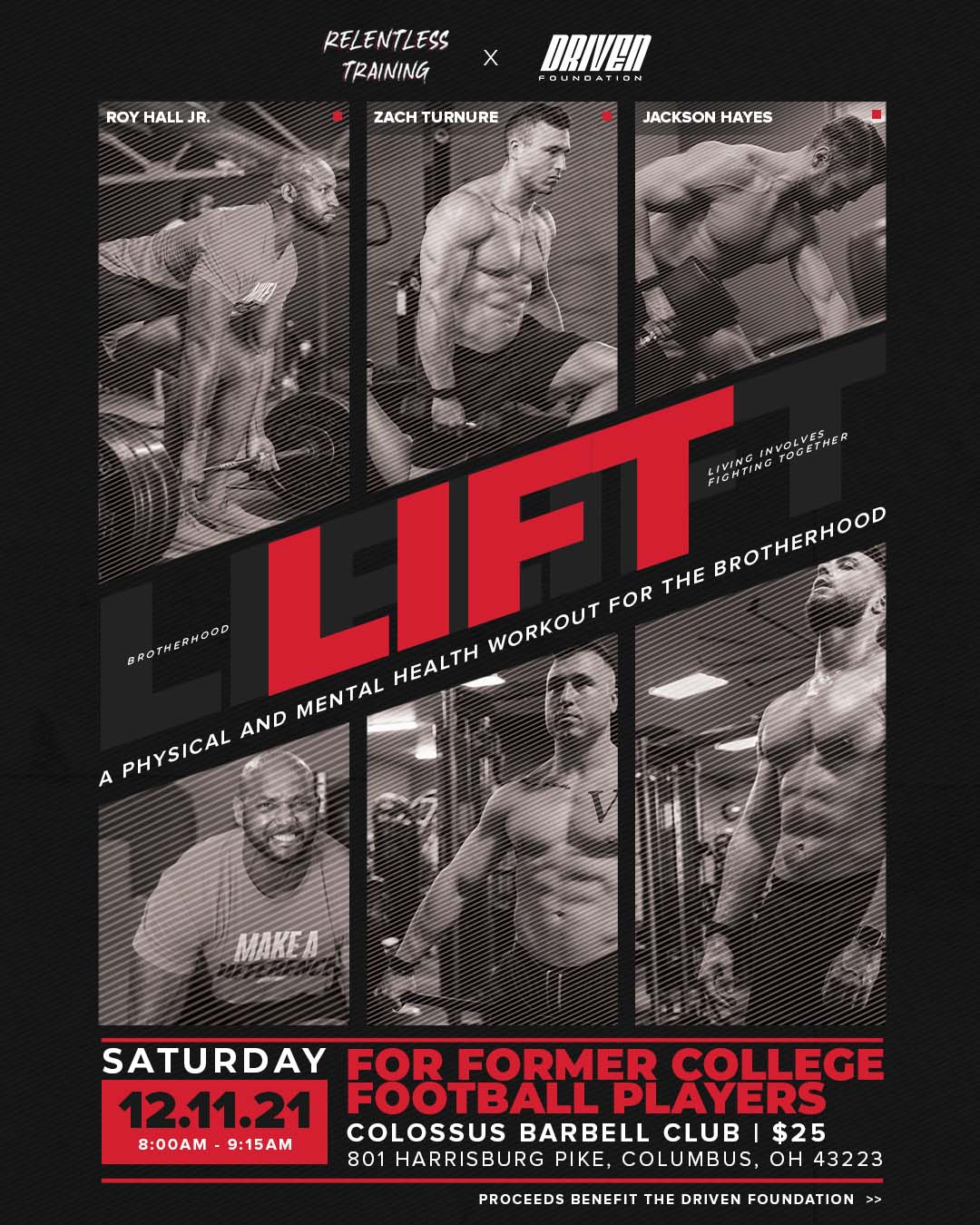 FOR FORMER COLLEGE FOOTBALL PLAYERS
LIFT >> A Physical and Mental Health Workout For the Brotherhood
The majority of college football players who are forced to leave their sports through injury, graduation, or retirement, routinely battle depression and anxiety. It's a crisis hidden beneath the dangerous facade of strength and drowned out by the contagious roar of the crowd. No other place in society glorifies perfection – and suffering – like sports; especially football.
That's why on December 11, 2021 Relentless Training, led by former Ohio State Football players Zach Turnure and Jackson Hayes, and the Driven Foundation, co-founded by former Ohio State Football players Roy Hall Jr. and Antonio Smith, will host LIFT. Living Involves Fighting Together.
Join us for a LIFT with other former college football players, and stick around to LIFT each other up through dialogue surrounding mental health and the continuous transition of life after sports. 
When: December 11, 2021
Where: Colossus Barbell Club
Address: 801 Harrisburg Pike, Columbus, OH 43223
Time: 8:00am – 9:15am (Doors open at 7:40am)
GET YOUR TICKET BELOW
LIFT EACH OTHER UP
Doctors recommend that to combat depression and anxiety, individuals should exercise at least three times a week, practice good nutrition, sleep at least eight hours, and SURROUND THEMSELVES WITH A SUPPORT SYSTEM.
Join us at Colossus Barbell Club on December 11, 2021 at 8:00am for LIFT >> A Physical and Mental Health Workout For the Brotherhood; for former college football players. Proceeds from ticket sales will help feed families this holiday season through the Driven Foundation Food Outreach.
Can't Make it to LIFT?
We understand that you may not be able to attend LIFT, but you would like to support a family this holiday season. Click the DONATE button below and easily make a difference. Just $25 helps provide a family with a week's worth of food during the 13th Annual Driven Holiday Food Outreach. Thank you for your support.